Whether you are a landlord or a homeowner, maintaining electrical appliances is often essential to protecting your property from electrical damage. Here at K and M Maintenance, we work across the North West to provide professional and friendly electrical services, including maintenance. As a result, we have produced this guide to electrical maintenance in domestic properties.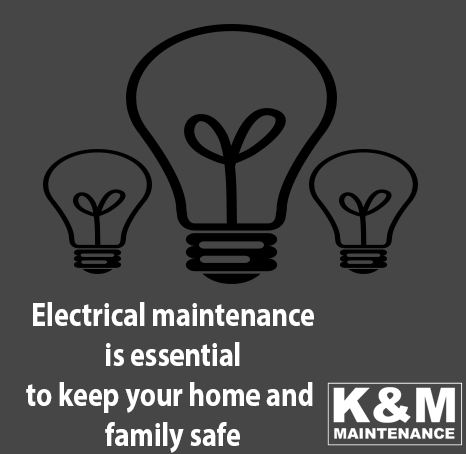 What does electrical maintenance include?
Electrical maintenance involves inspecting and testing all electrical equipment to make sure it is functioning optimally.
In your home or the property you are renting out, it can be easy to overlook electrical equipment. This is because we rely so heavily on our electricals that we dont stop to think about the wear and tear that might be occurring. Professional electrical maintenance however, can ensure that your electricals are performing as they should. If you are a Landlord, this is one way to make sure you meet your legal obligations.
Electrical maintenance includes:
Testing smoke detectors and fire alarms that are mains powered
Testing all sockets
PAT testing appliances and keeping your electrical safety up to standard.
Fixed wire testing
Electrical fault finding
Why is domestic electrical maintenance so important?
Wear and tear is one of the most common causes of electrical faults and problems. These faults can lead to issues such as a electric shocks and can cause electric fires. As a result, poorly maintained electricals can be a real hazard for your property and your family or tenants. Electrical maintenance will pick up on any small issues and will help you catch any problems before they become too dangerous.
If you need electrical maintenance support, why not contact the professionals today at K and M Maintenance?