With increasing numbers of burglaries and thefts occurring from domestic properties around the UK, home security is becoming more important. In fact, it is estimated that the installation of home security systems will rise by around 30%. But what are the options when it comes to home security? And will they actually work? Here at K and M Maintenance, we are Preston's leading domestic electrical specialists. As a result, we have produced this guide to electrical home security system options.
Home security options
When it comes to keeping your home and family safe, you have a range of options. These include:
exterior security lighting
exterior cctv
smart locks
Each of these can be installed by a professional and qualified electrician to protect your home.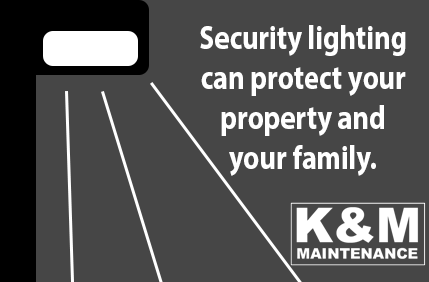 Exterior security lighting
On dark nights it is easy for potential thieves to approach your property without being seen at all, even by neighbours. However, motion triggered lights that light up your driveway, front garden, alleyway, or back garden, can frame these intruders. Once a potential burglar has seen your security lighting, they are likely to move on to an easier target.
Exterior CCTV
Fitting exterior CCTV cameras may feel a bit extreme, but if it can help catch potential burglars wandering around your area, it is a fantastic investment. It means that anyone approaching your property will be filmed or recorded and you will be able to use this footage as evidence against them.
Smart Locks
If you are into technology, and interested in how it can help improve day to day life, a smart lock might be the solution for you. This type of lock means that you wont need to carry a house key around with you anymore. Instead you will have a keypad to type in a code to unlock your home, a key card to swipe into your home, or simply an App to unlock your door. As a result, you never have to worry about your door being left open, or your lock being picked.
In summary
When it comes to keeping your home and family safe, security options are a must. Our guide to electrical home security system options has included exterior security lighting, smart locks and exterior CCTV. If you would like any of these installed in your property, contact the professionals at K and M Maintenance today.