An electrical installation condition report will take a look at all of the electrical installations in a property. It is not a certificate to say your installations are safe for use. Instead it provides a list of recommendations and concerns for the future. So how does this relate to landlords and homeowners? Here at K and M Maintenance, we are Preston's top electrical company. We work across the North West to provide a range of electrical services to our clients, including electrical installation condition reports. As a result, we have produced this guide, exploring electrical installation condition reports for homeowners and landlords.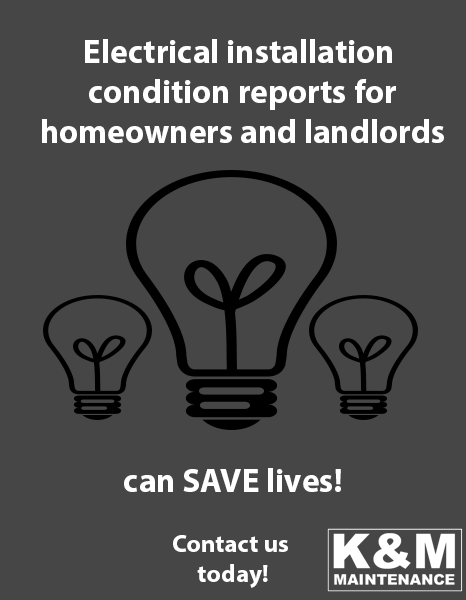 Homeowners
Electric installations are usually only thought about when it comes to purchasing a property. This is because your insurance may even demand one. There is no doubt that this is the reason that we are most often called to conduct an electrical installation condition report.
However, the safety of your property and family can be put at risk by faulty electrics at any stage. Electrical wear and tear occurs in much less time than you might think. As a result, it is recommended that homeowners hire a professional to test their electrics at least every five years.
An electrical installation condition report is the best way to monitor the safety of your household electrics. This is because it will involve inspecting your wiring system.
Landlords
As a landlord, you have a legal obligation to your tenant to ensure the safety of the electrics provided in the property. This comes under the Landlord and Tenant Act 1985. As a result, Landlords are legally responsible for maintaining electrical systems and testing electrical wiring. This will involve conducting an electrical installation condition report every 5 years, or at every change of occupancy, depending on which happens first.
With many electrical accidents, injuries and even deaths occurring because of a faulty electrical appliance or connector, it is essential that Landlord take this responsibility seriously. An electrical installation condition report will help meet these legal obligations and also keep your tenants safe.
If you are looking for a professional and friendly team you can trust, contact us today at K and M Maintenance.