Boiler servicing is a crucial part of boiler maintenance. It can help ensure that your boiler is in full working order and is working effectively. It can also help our professional, qualified gas engineers to identify any areas of wear and tear. Here at K and M Maintenance, we are boiler servicing experts. As a result, this is a guide to what you can expect from a full boiler service.
A full visual inspection
When we arrive, we will take a look at your boiler. The first thing we will note is the position of your boiler and its age and general condition. We will be recording whether or not these aspects of your boiler comply with various regulations and standards, including:
Gas safety regulations
Building regulations
Water by-laws
Electrical Part P Regulations
Manufacturers installation instructions
British Standards
European norms
This is especially important if you are a landlord as you need to legally abide by these rules.
Our visual inspection will continue as we look at the fittings and components inside the boiler, as well as the external pipework. We will record details about the condition of these fittings and make a note of any repairs that may need to be carried out. We will look at: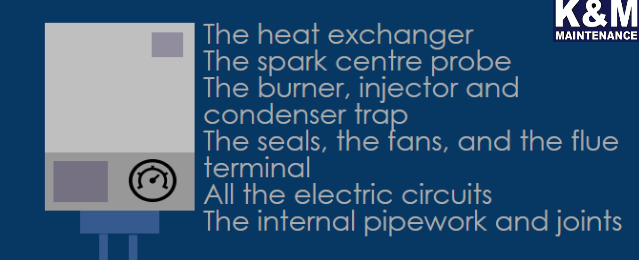 Test how it works
The next thing we will do is fire up the boiler. We will test your boiler on all settings and make sure that it is working efficiently and effectively. Any faults or issues will be recorded and our engineers will make you aware of any repairs needed. Our qualified and professional engineers will also test for abnormal noises, vibrations, and smells.
Test the Gas Pressure
The final thing we will test is the gas pressure. This will indicate to us any gas leaks. If the results are abnormal we will work out where the problem is coming from, and work to resolve the problem.
For all of your boiler needs, or if you need a boiler service, contact us today at K and M Maintenance.