As more and more of our homes devices need to plugged into the mains, it seems like you can never get enough sockets. As a result, extension leads are becoming increasingly necessary, simply to power our day to day activities. However, this can lead to some dangerous behaviour and attitudes towards extension cables. Here at K and M Maintenance, we are Preston's leading electrical company, and we provide electrical services across the North West. As a result, we have produced this guide to socket shortage and overloading dangers.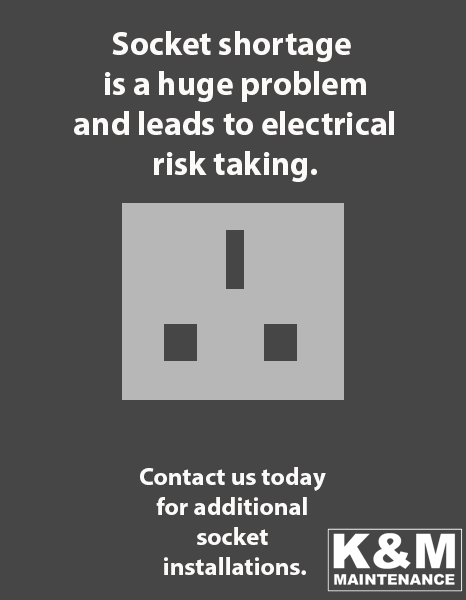 Safe use of extension leads
While many of us need extension leads to power our TV, Skybox and games console, did you know it is extremely unsafe to plug both a toaster and a kettle into the same extension lead? No, neither did many of our clients. However, this is a sure fire way to overload your extension lead and risk an electrical fire! As a result, it's important that we take electrical safety seriously, especially when it comes to extension leads.
But why are there not enough sockets?
Although extension leads can be a big risk, it would appear that few people think there is a way around this. This is because of the few sockets that are available in homes.
While many of our homes were built in the Victorian or Edwardian era, where our technology could not even be dreamed off, even new built homes have too few sockets. In fact, the National House Building Council stated that newly built 3 bedroom homes only consist of 38 sockets!
As our technology interest and gadgetry use increases, it seems that our need for sockets will only ever increase. So what can you do?
Install more sockets
With around 92% of homes using 3 extension leads or more, socket shortage seems to be a common occurrence. As a result, installing more sockets can only ever be a helpful move. Any qualified and registered electrician should be able to provide you with additional sockets, but you need to make sure you choose someone trustworthy.
In summary
If you are relying on extension leads to power your home, why not look into having additional sockets installed. This will help keep your home and household safe. When it comes to socket shortage and overloading dangers, we are experts. Why not contact us at K and M Maintenance today?