When it comes to your electrical work, safety and professionalism are essential. After all, electrical hazards are potentially fatal. As a result, it stands to reason that your electrical installation work needs to be carried out by a professional, registered, and qualified electrician, in order to meet building regulations. Here at K and M Maintenance, we are Preston's favourite electrical experts and we provide a high quality professional service to homes across the North West. Consequently, we have produced this guide to choosing an electrician.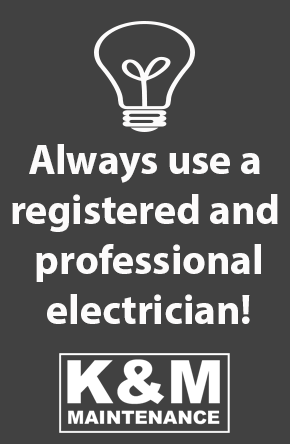 Building Regulations and Part P
Any electrical work that you need to be implemented throughout your property may well come under the building regulations requirements. As a result, you may need to hire an electrician that is registered with a government approved scheme. This is because they will need to notify the local authority before work commences, on your behalf.
However, the building regulations do differ between England, Wales, Scotland and Northern Ireland.
Considerations for choosing an electrician
If your electrician is not registered, be aware you could be breaking the law. This will make it difficult for you to claim on the insurance should something go wrong, and it also means that you could be putting your home and household at risk.
Make sure you shop around. Be very clear about the work that needs doing and collect quotes from at least three different electrical companies.
Before any work begins, make sure that the electrician you have chosen has public liability insurance of at least £2 million.
In summary
Choosing an electrician can be a tricky process. Navigating the building regulations and requirements can be challenging, but a good electrician will be able to help you tackle these issues. Whoever you choose, make sure you hire a registered electrician.
For a professional electrical service you can rely on, contact us at K and M Maintenance today.