Here at K and M Maintenance in Preston, we deliver top quality, professional electrical services across the North West. As a result, we have become experts when it comes to Part P of the Building Regulations. This has been compulsory since 2005, and is designed to keep your property and your family safe. This is our guide to Part P of the Building Regulations.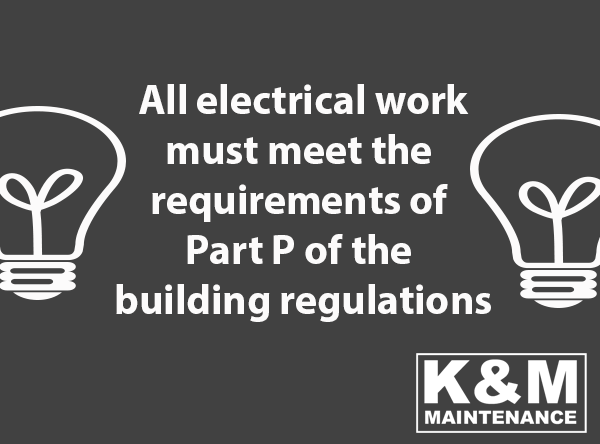 Safety
When it comes to electrical installations and maintenance, safety is paramount. Electrical hazards and fires not only damage property and possessions, but it can also lead to fatalities. Part P is designed with your safety in mind. But what does it entail?
Legalities
It is by law that the landlord of a property or the homeowner themselves, must be able to provide proof that any electrical work meets the Part P requirements. If not, they will be committing a criminal offence! In fact, this means that local authorities have the power to make homeowners or landlords change or get rid of any electrical work that does not meet these requirements!
So what type of work is notifiable?
In England there are specific electrical jobs that are notifiable to a local building control body where the work entails:
altering circuits
installing new circuits
installing a fuse box
rewiring all circuits
partially rewiring
Choosing an electrician
All of the electrical work in your home must comply with the Part P regulations, and the electrical work above must be notified. The tasks above also must by lay be completed by an electrician with a Building Regulations Compliance Certificate. As a result, it is self evident that you need to take care to employ an electrician that is registered, qualified and trustworthy.
If you need electrical work in your domestic property, contact the experts at K and M Maintenance today, for a service you can trust.