When it comes to your kitchen, you need it to look impressive. Electrical tricks such as lighting, can really help to bring out the best in your home, especially the kitchen. This includes under cabinet lighting. But what is it, and why would anyone install it? Here at K and M Maintenance, we work across Lancashire and Cumbria to support homeowners and landlords alike with their electrical and lighting issues. As a result, we have produced this guide to under cabinet lighting.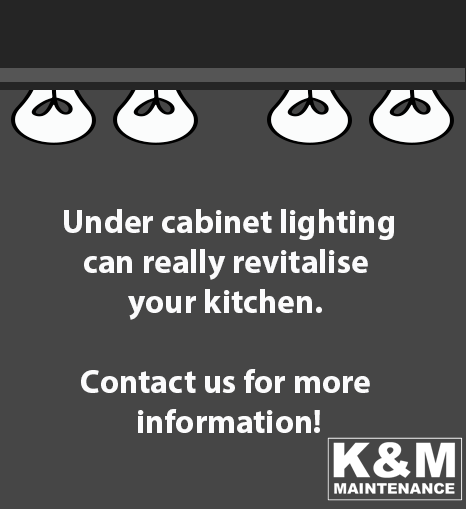 What is under cabinet lighting?
Lighting that is fitted to the underside of the top row of cupboards in the kitchen, is known as under cabinet lighting. This then lights up the work-surfaces underneath and creates an impressive and stylish effect. This is also an extremely practical way of lighting your kitchen, as it means that your food preparation will be well lit.
Why install under cabinet lighting?
Under cabinet lighting can be an effective, stylish, and practical lighting solution for the kitchen. There are a range of benefits to under cabinet lighting, including:
†Making your kitchen look larger by adding to the light. This light reflects off surfaces making the kitchen feel larger, brighter and more usable.
†Making your kitchen appear cleaner by getting rid of the dark, shadowy areas under the cabinets. By lighting these up, you can give your kitchen a much cleaner look.
†Helping with food preparation through dedicated and discrete lighting that is directed onto the work-surfaces.
Installation of under cabinet lighting
There are two main methods of installing the under cabinet lighting. These are fitting the lighting before your cabinets, and retrofitting.
The easiest of the two options is to fit the lighting before your cabinets. This is because with this option, the cables and power lines can be laid directly into the wall, before the cabinets are even attached. As a result, you wont need to worry about any potential damage that may occur to cabinets or tiling.
Retrofitting however is completely achievable in most kitchens, depending on your cabinet layout. However, the cables will have to go through your cabinets and this can be messy. As a result, if you go for this option, it will be best if you don't need to use your kitchen for the duration of the installation (usually only one day).
No matter which installation option will suit you, contact the experts at K and M Maintenance today. We can guarantee a professional service.