When it comes to keeping your home safe, practical and usable, lighting up the exterior of your home is a no-brainer. From the summer evening barbecues, to the winter stargazing, installing exterior lights can help you make the most out of your outdoor space, all year round. Here at K and M Maintenance, we are Preston's leading lighting experts, and we work with clients across the North West to deliver fantastic electrical solutions. As a result, we have produced this guide to domestic exterior lighting.
Exterior spotlights
Working in the same way as interior spotlights, exterior spotlights can be used to shine a light onto certain parts of your garden or outdoor space. From lighting up trees, to shining on the bench, exterior spotlights can be a useful and stylish way to add light to your outdoor space.
Spotlights are also extremely practical. LED spotlight bulbs are long lasting and effective, while also being small in size. This means that the lights can be hidden in your garden or along your path, and wont be intrusive to the view.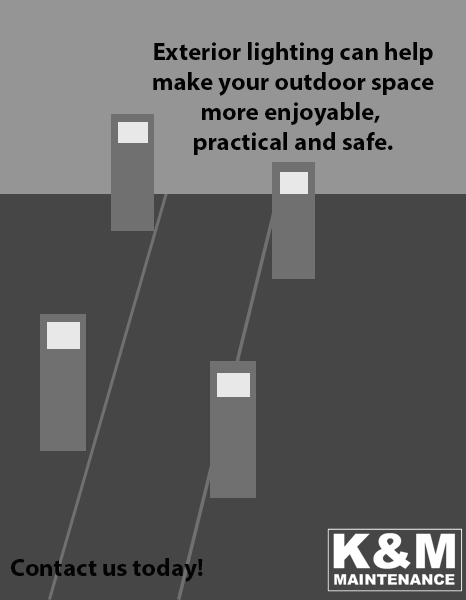 Exterior path lighting
Illuminating your paths is a great way to keep yourself and your guests safe, when using your outdoor space at night and in winter. There are two ways to light up your path. These include:
Lighting inside the path itself- This is a very stylish method of exterior lighting, and with the path itself causing light to meander through your garden, this can look amazing. However, it is also the most complicated method and can be expensive. This is because it relies on a lot of planning and design, pre-installation.
Stakes along the path- This is probably the most common form of exterior lighting and can be extremely effective. Using stakes to light your path at regular intervals helps your garden stay safe in all lighting conditions. This is much easier to install than lighting from within the path itself.
Wall lighting
Lighting from your wall outwards can be the perfect way to illuminate your outdoor space and keep your garden usable all year round. This kind of lighting can double as security lighting too, keeping away potential criminals.
If you want any kind of domestic exterior lighting fitted, why not contact us today at K and M Maintenance?