Whether you are a homeowner, a Landlord, or a property developer, the electrics within a property will be your concern. Lights are often the main electrical concern that people focus on, but sockets are also vitally important. With an ever increasing need to plug our devices, appliances and gadgets into sockets, we often have to resort to using extension leads. Here at K and M Maintenance, we are Preston's leading electrical experts. As a result, we have produced this guide to the advantages of installing additional circuits.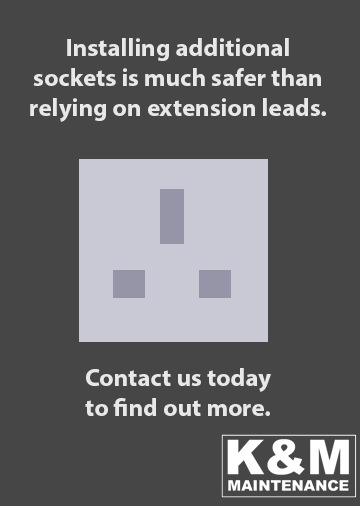 Home renovation
During a home renovation or as part of developing a property, the socket situation should be considered. This is because it is always easier to plan and fit all additional sockets at the same time. It will save you time and possibly money. As a result, you should consider carefully the number of sockets you will need in each room and always include two additional sockets, as it is much more beneficial to have extra than not enough.
Retrofit
Having said that, retrofitting sockets can be a possibility, by adding sockets onto an existing circuit ring. To make sure that this is safe and legal, contact a professional and qualified electrician to retrofit your additional sockets. This will keep you and your property safe, and prevent electrical fires or shocks from occurring through faulty installation.
The Advantages of installing additional sockets
There are many advantages when it comes to installing extra sockets. These include:
? less reliance on extension leads that can be unsafe
? much less likely to overload sockets and cause problems for your circuit systems
? enough sockets to plug in your appliances and devices without having to unplug and switch them over each time
If you want to install more sockets in your home, contact the professionals today, here at K and M Maintenance.