If your boiler is past its best and no longer working efficiently, it may be time for you to think about installing a new boiler. However, this can be a daunting and overwhelming task, given the amount of decisions that you need to make. Don't worry, here at K and M Maintenance we are boiler experts. As a result, we have produced these tips for choosing a new boiler.
Budget
One of the top tips for choosing a new boiler is to decide on a boiler budget. There are a large range of boiler pricing options, and so you need to set an upper limit. Don't forget that installation of a new boiler will also cost money. Make sure you leave room in your budget for any additional costs.
Choose the best offer
Search around for the best deal. Often, you can find more than a £100 difference between suppliers and shops. Don't pay more than you need to.
Boiler Type
Depending on your existing boiler type, you may have to make a choice about the type of boiler to be fitted. If you already have a water tank, you could reasonably fit a conventional boiler. However, this is less efficient than a condensing boiler or a combination boiler.
In addition, a combination boiler is cheaper to fit because of the reduced pipework required.
Boiler Size
Make sure you know the boiler size that will be right for your property. Don't hesitate to contact the professionals at K and M Maintenance, if you would like a professional opinion.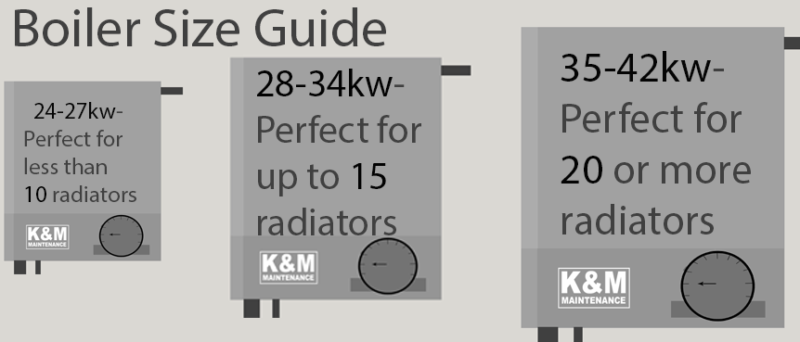 Boiler Position
The final thing to think about in terms of choosing your new boiler is the position. Will you be positioning your new boiler directly where your original boiler was? Or does it need to be moved? If your boiler does need to be moved, bear in mind that the installation costs will be higher, eating into your pre-decided budget.
In summary
There are many decisions you will need to make regarding your new boiler. These include the budget, boiler type, size and position. Here at K and M Maintenance we strive to make this process as easy as possible. Why not contact us today?